OPR-DT4KP 4K 60FPS HDMI CVBS Video Decoder Transcoder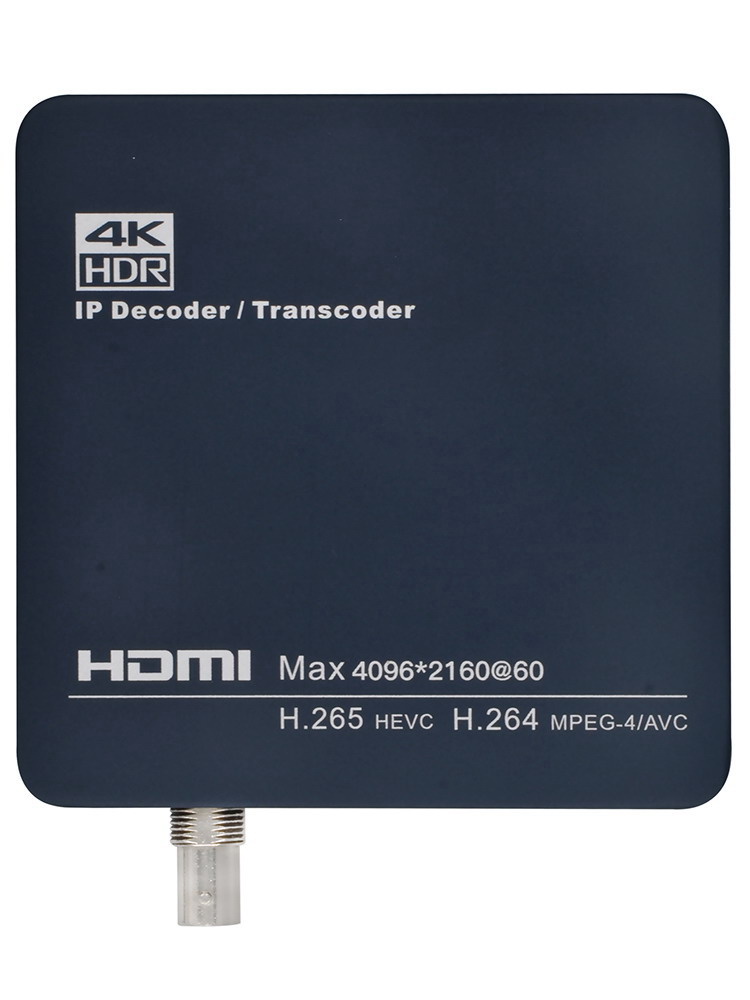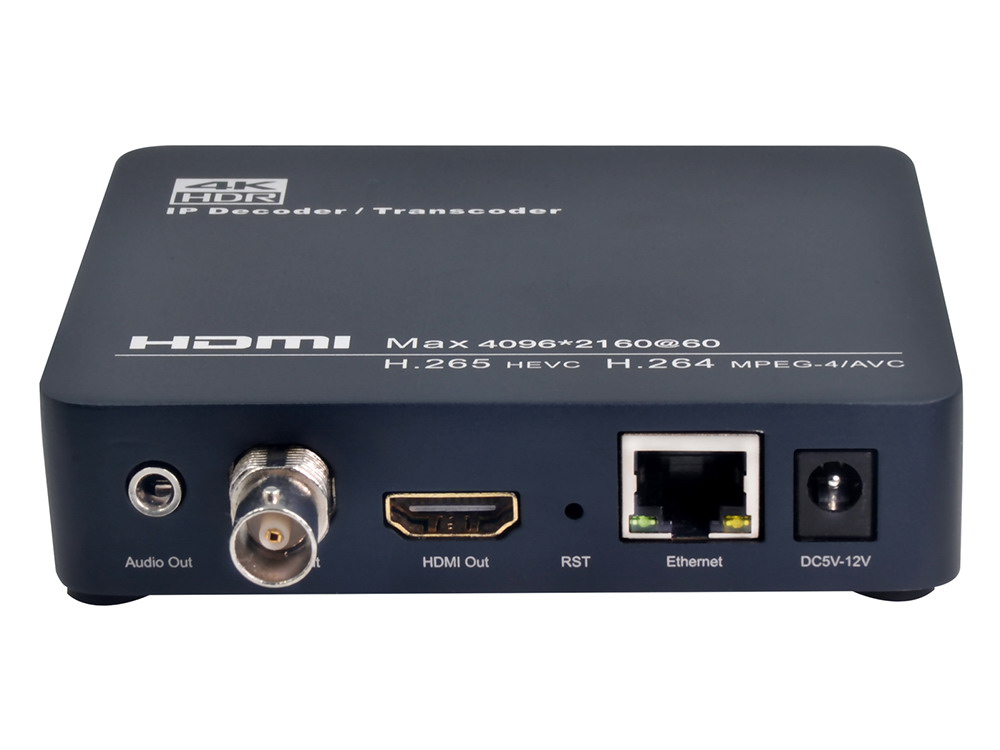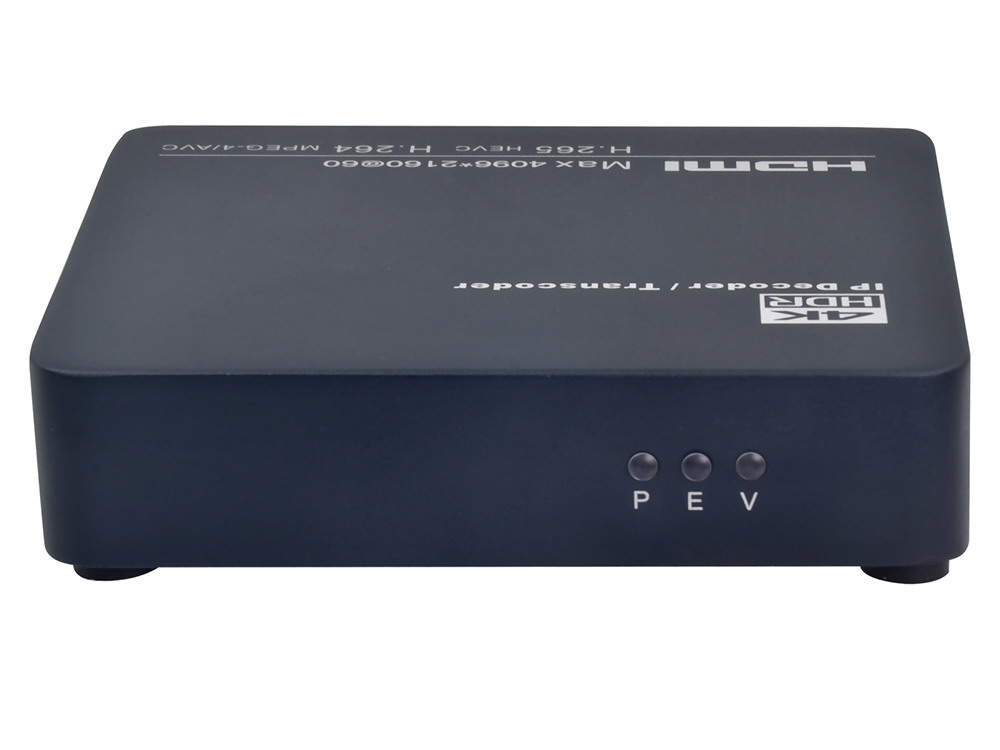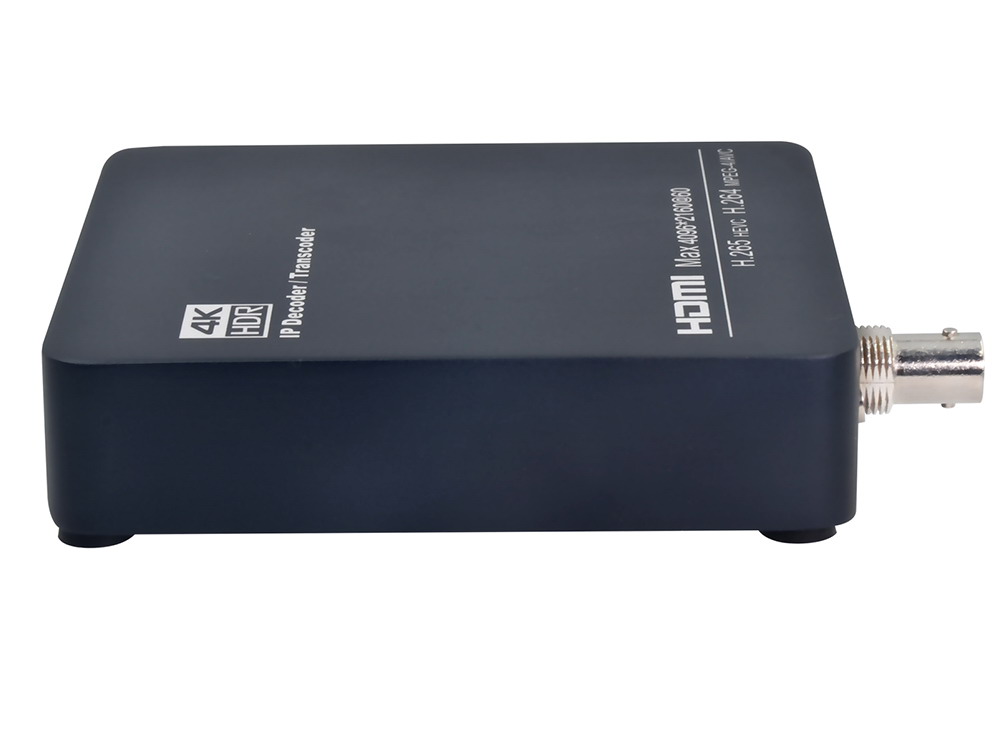 Get more information, message us now!
Description
Specs
Downloads
OPR-DT4KP H265 4K60fps HDMI CVBS IP Video Decoder - IP Video Transcoder - This IP Video Decoder & Transcoder can receive the SRT/HTTP(S)/HLS/FLV/RTSP/RTMP(S)/UDP/RTP (Unicast/Multicast) stream from our HDMI/VGA/SDI/CVBS IP stream encoder or media streaming server, platform, and decode H.265/H.264 video & audio, then output HDMI, CVBS, and L/R stereo audio. Additionally, it can perform IP transcoding to output H.265 or H.264 IP TS with different resolutions and FPS. Its high level of integration and cost-effective design make this device widely used in various fields such as advertising display, CCTV, long-distance video transfer, IPTV, etc.

Product features
1. Embedded HiLinux System, stable and effective, 7 x 24h working time.
2. Friendly Web Control UI, default IP is 192.168.1.169.
3. Support SRT / HTTP / HLS / FLV / RTSP / RTMP(S) / UDP/RTP (Unicast/Multicast) streaming decoding & IP streaming transcode.
4. Support output resolution - 4096x2160@60fps, 1080P/1080I/720P@60FPS, etc.
5. With English control panel & language customizable.
6. Support H.265/H.264 baseline /main /high profile & MJPG MP2 etc., decoding.
7. Support firmware upgrade.
8. Support remote control via router port forward.

Our Services
1. 1-Year Warranty.
2. Online, remote help.
3. Encoder Function customizes.
4. OEM & ODM welcomed.
Application
1. Long distance video transfer.
2. Internet TV (IPTV) HD capture system
3. Internet video conference front-end capture
4. Digital signage HD streaming server
5. Teaching broadcast
6. Network monitoring system platform front-end capture
IP Stream Input
IP TS
RTSP/ HTTP/ HLS/ FLV/ RTMP(S)/ UDP/ RTP/ SRT
Private Protocol
HTTP PTE
Video Decodec
Video Decode Type
H.265/ H.264/ MJPEG/ MPEG2/ MPEG4/ AVS/ AVS2
Video Decode FPS
1-60fps
Video Decode Resolutions
Max support 4096*2160, 3840*2160@60fps, 1080P/ 720P
Input IP
1 SPTS/ MPTS
Audio Decode Format
AAC/ AAC_AT/ AAC_FIXED/ AAC_LATM/ AASC/ AC3/ AC3_AT/ AC3_FIXED/ G729/ GSM/ GS_MS/ GSM_MS_AT/ MP1/ MP1_AT/ MP1FLOAT/ MP2/ MP2_AT/ MP2FLOAT/ MP3/ MP3_AT/ MP3ADU/ MP3ADUFLOAT/ MP3FLOAT/ MP3ON4/ MP3ON4FLOAT/ PCM_ALAW/ PCM_MULAW/ ADPCM_G726
HDMI Output Resolution
4096x2160P60/ 4096x2160P50/ 4096x2160P30/ 4096x2160P25 / 3840x2160P60/ 3840x2160P50/ 3840x2160P30/ 3840x2160P25 / 1440P60/ 1920x1200P60/ 1080P60/ 1080I60/ 1080P50/ 1080I50/ 1080P30/ 1080P25/ 720P60/ 720P50/ 576P50/ 480P60
CVBS
PAL/ NTSC
Color
Brightness, Contrast, Hue, Saturation
HDMI Audio
48kHz L/ R Stereo Audio
Analog Audio
3.5MM L/ R Stereo Audio
Audio Output
Enable/ Disable
Transcodec
Video Encode Format
H.265/ HEVC main profile H.264/ AVC High/ Main/ Baseline Profile
Video Encode FPS
5-60fps
Video Encode Key Frame intervals (FPS)
5-300
Video Encode Bit Rate (kbps)
32-100000
Video Encode Resolution

1920x1080/ 1680x1056/ 1600x900/ 1280x720/ 1024x768/ 850x480/ 720x576/ 720x540/ 720x480/ 720x404/ 704x576/ 640x480/ 640x360/ 608x448/ 544x480/ 480x480/ 480x384/ 480x360/ 480x320/ 480x272/ 480x270/ 400x320/ 400x224/ 352x480/ 352x228/ 320x256/ 320x240/ 320x180/ 240x180/ 176x144

Video Encode TS
HTTP TS/ HTTP FLV/ HLS/ RTSP/ RTMP(S)/ UDP/ RTP/ SRT
Audio Sample Rates
48kHz
Audio Encode
AAC G711
Miscellaneous
Ethernet
1000Mbps, RJ-45
Control Method
Web based management – IP 192.168.1.169
Power adapter
AC input 100-240V 50/ 60Hz DC output 12V 2A
Power consumption
Max power consumption: ~ 5 W
Operating temperature
-10 to 70 deg C
Relative Humidity
5% to 90% non-condensing
Dimension (L× W× H)mm
105x105(125mm including the BNC-CVBS)x23
Approx weight
240g